Asa x Bandit litter now all sold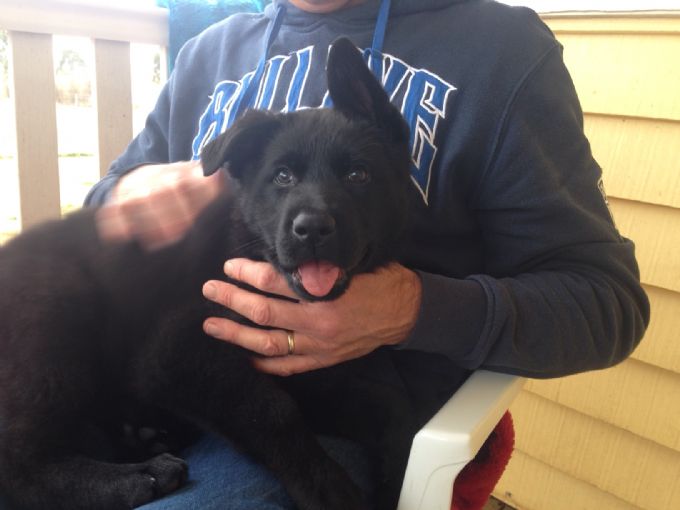 Leafield Asa (Asa - hips 3/3 elbows 0/0) has had a beautiful litter to Vonammerberg Eldo (Bandit - hips 3/4 elbows 0/0)
Sorry - all puppies now in their new homes, one female retained.
These pups are magnificent - will be large, solid dogs with straight backs and strong limbs - steady, calm temperaments with amazing intelligence, trainability and really good natures. These puppies are so outstanding I am keeping one myself & the others were pre-ordered.
Puppies come with all of the standard issue from Leafield - born and raised in the home, wormed two weekly from birth, biosensory program from birth, first c3 vaccine, microchipped, lead trained, house training started, car travelled, socialised from 6 weeks with: people, dogs, horses, chickens, children. These pups will suit: IPO, tracking, trialling, or protective family members. Only the best of situations will be considered for one of these pups - We prefer homes where the dogs are inside/outside, part of a family, not left alone while owners work all day x 5. No tiny children - we prefer childrento be at least 8 years old (This is not because the dogs are not great with kids - it is because until your puppy grows up they will play too rough for small children and may accidently knock them over).
We also prefer homes who have owned a German Shepherd - no first time dog owners please - these pups are not suitable for inexperienced owners. They are highly intelligent and will require training, company & stimulation. They are not like 'run of the mill' dogs.
The standard temperament of our dogs is protective, calm, laid back, fun, playful, easy to live with but with a high degree of intelligence that needs to be directed. They will never be happy or fulfilled as 'yard dogs'. Please feel free to call with any enquiry - all enquiries welcome.
Contact Details
Sherry Leach
0400 011 260