Heidi x Chief all sold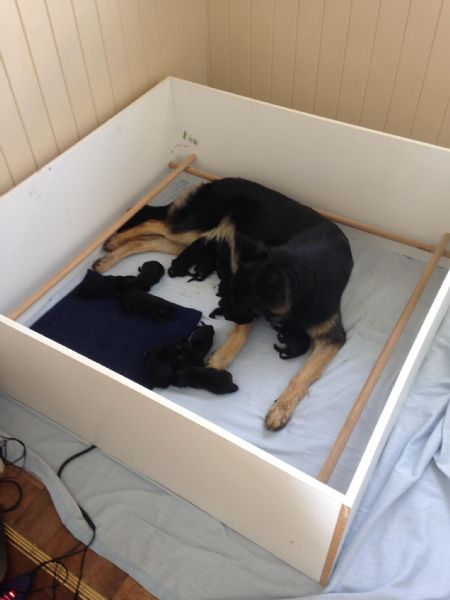 Heidi x Chief
for full pedigree of Heidi: www.pedigreedatabase.com/german_shepherd_dog/dog.html?id=1963452-titoki-kal-yani
full pedigree for Chief: http://www.pedigreedatabase.com/german_shepherd_dog/dog.html?id=2224306-von-alfstyne-fudo
Heidi is a Black Bi-Colour glamour coat who is larger than most bitches and weighs approx 40kg. She has a very good temperament, fearless, loyal, very social, thick nerve, steady, good drive yet calm and sensible. Heidi has an excellent nose and is very tracking able. She is super intelligent with excellent reasoning ability. Can open most doors, turn toys on and off, hides possessions and can fetch named possessions.
Chief is a dog of very steady character, trained in IPO, excellent nerve and also calm & sensible. His temperament is excellent.
Both dogs have been xrayed for hips & elbows: Heidi Hips 3/1, elbows 0/0 and Chief is Hips 3/2, elbows 0/0.
Heidi has also been DNA tested and certified DM clear.
Both Heidi and Chief are the result of total outcross matings and each dog has no common ancestors for more than 5 generations. Both Heidi and Chief share a common ancestor in their Great Grandfather - Fax Vom Grenzganger so these pups are linebred to him 4-4 and no other linebreeding. This is a relatively unique mating as we believe that most German Shepherds available today are heavily line bred to more than one ancestor.
All sold now sorry. All will come with full registation with Dogs Qld, microchip, first vaccine, health checked, wormed 2 weekly, well socialised, lead trained, house training started, car travelled, biosensory program from birth, handmade leather collar, lead, toy, information folder, health record etc. And a lifetime of follow up support/advice if and when required.
Contact Details
Sherry Leach
0400 011 260